I bought the
Tangle Teezer
a few weeks ago from Sally Beauty Supply Store. I actually did not know much about this product at all. I just wanted a brush to tame my tangles in my hair. So I bought it just like that! It was around $13.50 Cdn. It's when I came home and I started searching it up that I found out it's quite popular and it's originally from the UK.
I have fine, thin, wavy/curly hair which has the tendency of getting tangled very easily. I was looking for a magic comb that would take these nasty tangles away without bringing tears to my eyes or having any breakage.
Yes, it is PAIN FREE!
I know it's not recommended to brush wet hair but I think it's not a bad idea to use it in the shower after applying conditioner. It really depends how much your hair sheds. If this brush is too harsh, you can use a wide tooth comb instead.
This product comes in different colours I think. I chose the
hot pink
one of course! It is a little bulky and I would prefer some sort of handle to grip it better.
Pro:
-Saves time when detangling hair.
-Painless process!
-Light weight tool.
-Can be used on dry or wet hair. Do not continue further use on wet hair if there is breakage.
-Reasonably priced.
Con:
-Should have a handle to better grip the brush since it is wide shaped.
Overall Rating: 5/5
This is a great hair tool and recommend this to everyone who has tangly hair. This would be great for kids who have tangly hair. I would definitely buy my little cousin this for sure. I still see her mom trying to comb her hair and the poor child is just yelling out in pain. Her hair is fine and quite curly almost like Side Show Bob. No Joke! LOL Wish I had a picture of her right now....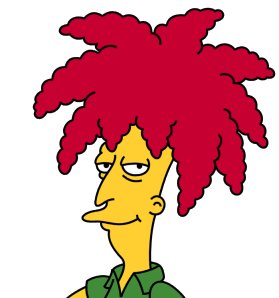 Speaking of crazy hair....
Here's an old (bad quality) picture of hair roller experiment gone wrong from 1-2 years ago. I secretly call it Krusty the Clown/Afro Hairstyle. LOL I always laugh at this picture whenever I see it. I used these cheap small hair rollers that really tangled up my hair so badly. It was a DRAG to remove each and every roller. O-M-G! I still rememeber my pregnant Aunt back then just laughing her A$$ off once she saw my hair condition! Good times though! I look mad sleepy as it was 2 AM at night. If only I had this Tangle Teezer to help me with all the crazy knots I had back then.
So will you be getting this Tangle Teezer "magic brush" ?