Make Up For Ever
Aqua Creams
are now being sold at Sephora (US/Canada). I picked up four colours a few days ago. After testing these cream eyeshadows out, I must say that I am quite impressed! The texture and pigmentation is just amazing. I literally do not need an eye-primer under these bases and so you can tell how long lasting they are. Once you apply them on, they do not budge! When I used Mac Paint Pots, I had to use an eye primer under or else it would end up creasing the eyeshadow. Once again,
MUFE does it again!
I am honestly impressed with all the new products they are releasing.
Well Done Make Up For Ever!
The colours come in 22 shades ranging from neutrals to metallics to bright/bold shades. Some of the shades are specifically designed for only lips and cheeks while others are for eyes and cheeks only.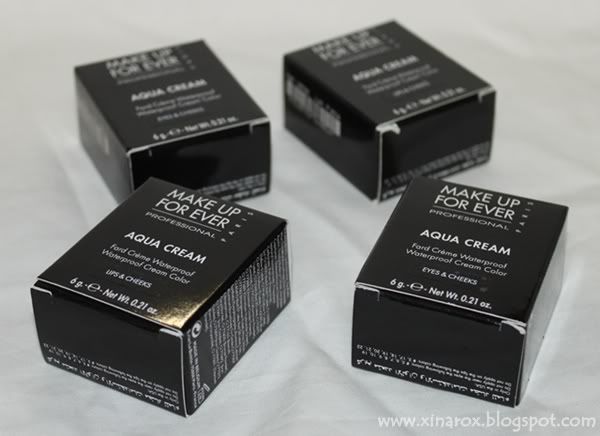 Awww....
Such cute looking pots!

*Aqua Cream: Eyes & Cheeks Only*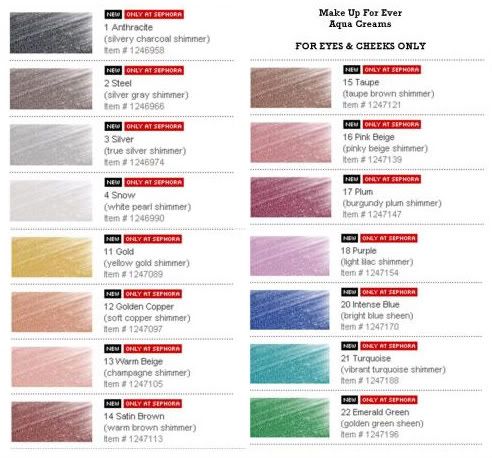 I got myself # 21 & #11....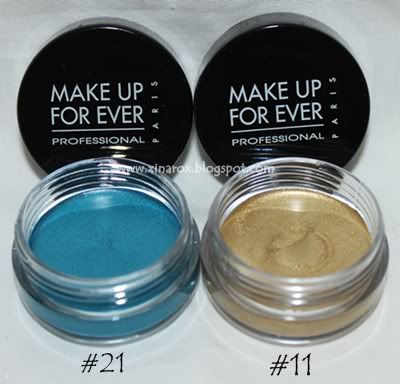 # 21 is a gorgeous turquoise shade which contains gold shimmer...although it is not as smooth as #11 which is a very smooth true golden base. These colours can be worn on the eyes and cheeks. They apply smoothly and do dry quickly. Imagine these as eyeliners? You can definitely wear it alone rather than as bases too. I don't think I would put on the turquoise one on my cheeks though (lol) but I may try out the gold shimmer on the cheeks as a highlight. I am also wanting to get # 20 which is an intense blue shade.

*Aqua Cream: Lips & Cheeks Only*
I got myself # 7 & # 9....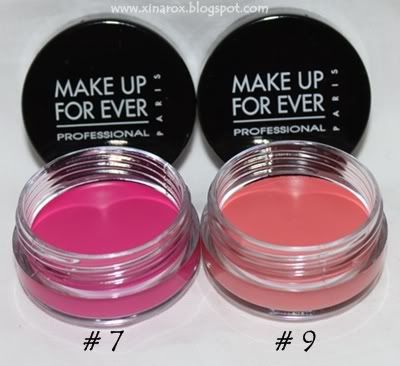 These are actually advertised as being "multipurpose" however I tried number
# 7 (hot pink with gold flecks)
on my lips but felt that it was drying. I would recommend moisturizing your lips before applying these.
# 9 (true bright coral with a little shimmer)
is another gorgeous colour that would look lovely on both the lips and cheeks. I don't think I will purchase more lip/cheek colours since I have a huge lip/blush collection already but I will definitely check out more of the eye/cheek colours.
The Swatches:
Pro:


-Heavily pigmented with long lasting power
-Texture is easily blendable and smooth
-Waterproof
-Excellent colour choices (neutral, metallic, & bold/bright)
-Multipurpose but for certain colours only
-Enough product is in the pot so it can last you a long time



Con:


-Some may find the lip/cheek aqua creams to be too drying on the lips
-Would be nice if all the colours are for multipurpose (eyes/lips/cheeks)
Overall Rating: 4.5/5
Product Comparisons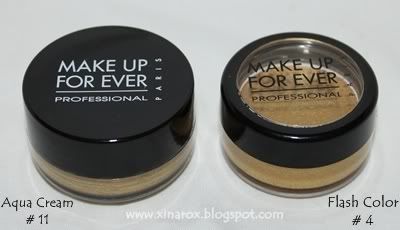 Aqua Cream #11 Vs. Flash Color #4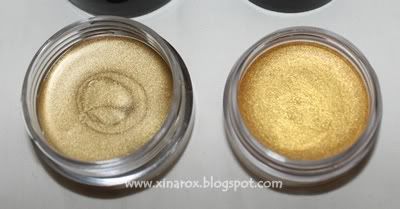 Comparison Swatches: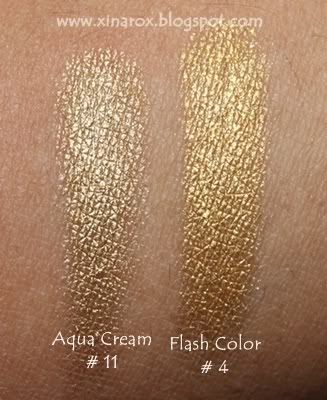 Hey! Don't ask why I got another gold shade...I love golds and can't get enough of them! When comparing the two golds...the flash color # 4 has more shimmer/glitter than the aqua cream #11. Both pots contain the same amount of product in each.
==========================================
C
heck out more review/swatches from these blogs links....
Make Up For Ever Aqua Creams Review, Photos, Swatches Part II
==========================================
So what colours are you liking?