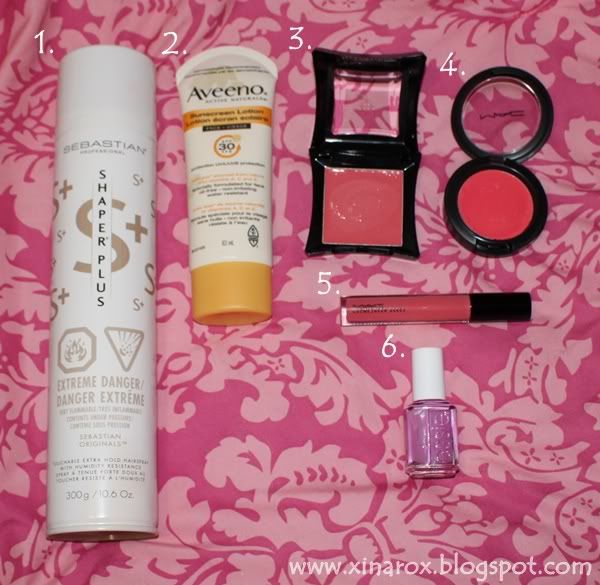 These are somethings I've been loving!
1. Sebastian Shaper Plus Hairspray -
I think this is my favourite hairspray of all time! It simply is the best! It doesn't make my hair feel rock hard. I can still brush through and style at the sametime if needed. It also holds in the hot heat and the aerosol smell isn't too bad either.
2. Aveeno Sunscreen Lotion 30spf - I just started using this under my make-up before I go out in the sun. So far so good!
3. Illamasqua Dixie Cream Blush - Love the colour and the gel like texture.
4. Mac Joie-De-Vivre Cream Blush - Another pretty cream blush!
5. Mac Melt in Youth Mouth Cremesheen Gloss - This is a gorgeous coral pink gloss. It's more sheer looking on my pigmented lips so I like to wear it with a lipliner or on top of a lipstick. I love the smooth and creamy texture it has and it's not sticky at all. It reminds me of Mac's TLC formula.
6. Essie Splash of Grenadine Nailpolish - A gorgeous light magenta pink colour! This is my first Essie nailpolish and I love it! You guys will love it too. ;) Check out some blog swatches....
http://3.bp.blogspot.com/_9jCUWBcN0kA/S60I8SvGUAI/AAAAAAAAGDs/9zpxehoubTg/s1600/fr91.jpg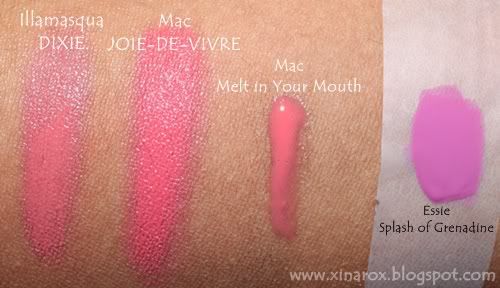 What have you guys been lovin' lately?
Comment Below.