$11 Cdn at Sephora
right now. You can find it near the counter. I always wanted to try these lipglosses out since it's over $30+ regular price. I don't see myself spending that much on a lipgloss unless it's REALLY GOOD
(like my Chanel Dragon...now that's amazing!)
.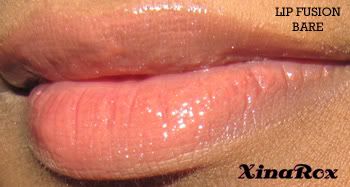 Thoughts:
This colour is a sheer tan peachy/pink shade so this should suit all skintones. It's obviously not as pigmented as I would like it to be. I've never really seen a very pigmented lip plumping lipgloss. I'd probably just apply it over a lipstick to get the plumping effect. I have small lips and I tried it on today. I felt a stinging sensation and I don't think it lasted that long but I did notice a plumping effect...lol
I didn't really like the doe foot applicator much. You don't really get much product on the wand and I had to dip it in like five times to apply it on fully. It's best to use a lip brush wand instead.
Well...I guess it's not that bad and $11 was reasonable to try out this product.