I was at Walmart yesterday when these awesome lipsticks were discovered....

Wet N Wild Mega Last (Matte) Lip Color Lipsticks
I first bought two of them just to try them out. I came home and was AMAZED by the pigmentation and quality of these. Then I went back today for a few more. These were for
$3.44
Cdn and I'm sure if there's a sale...you can get them even cheaper. I know I'm a Mac user and did try out many drugstore brand lipsticks as well...but these are
REALLY GOOD!
It reminds me of Mac's satin/matte finish lipsticks
(No Kidding!)
. These probably are similar to Revlon Matte lipsticks as well. When compared to NYX lipsticks....I found NYX to be more creamier in texture. I still prefer these though...good for pigmented lips! I can even compare them to Mac...honestly, I have seen many youtubers compare ridiculous drugstore products to Mac and I just don't see how they could even make such comparisons...it's like comparing apples to oranges? Come on!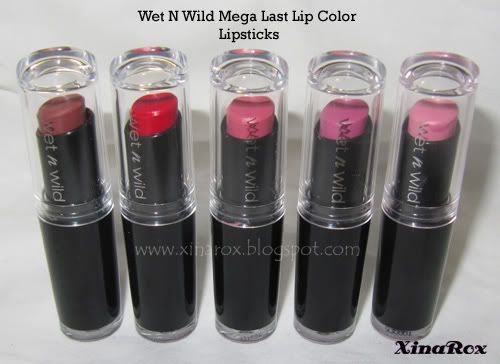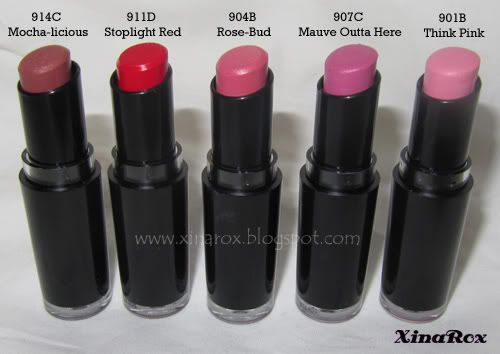 914C, 911D, 904B, 907C, 901B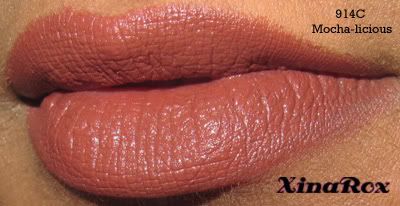 914C Mocha-licious:
I bought this for my mom since she loves brown matte colours. I'll get more for her if she likes these. They have many dark colours to choose from.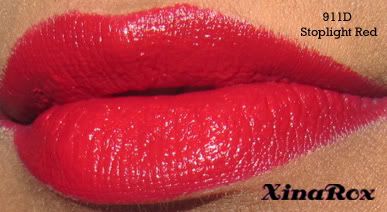 911D Stoplight Red:
This (blue base) red is so hot! I love it! I'm actually wearing this lipstick as I'm posting this blog. I wore it for five hours already and also drank water and it's still on good.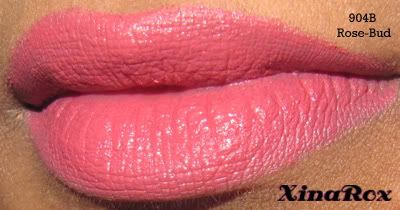 904B Rose-Bud:
A gorgeous warm pink shade. It's really pretty and very pigmented.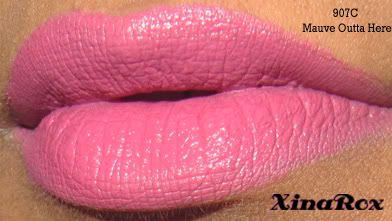 907C Mauve Outta Here:
This is a gorgeous blue base barbie pink colour. It's something I would definitely wear more often. It's totally my kinda colour!
901B Think Pink:
It's a very light nude pink colour...kinda looks peachy here. Obviously...it's too light on me and looks chalky. I shouldn't have bought this colour. lol I guess I can tone it down with some lipliner and gloss.

Pro:
-Satin/matte finish (amazing texture)
-Very Pigmented
-Not over-drying
-Long Lasting
-Cheap
-Very true to colour
-Perfect for people with pigmented lips
-Many colours to choose from (nude to bold to dark)
Con:
-Packaging needs to be improved (too plastic/cheap looking...wish it was more attractive)
-Inside seems too loose
-Would like some more selection in the lighter/medium colours
-No testers were at Walmart and so I had to pick colours without swatching....wish I didn't get the light pink nude...lol
Overall Rating: 4/5
I also grabbed these nailpolishes for
$2.44
at that time too.
Last Thoughts:
I have no idea when these came out and I'm happy I found these lipsticks. They need some lovin'! These are great to try out and I would definitely recommend these to everyone. I do own a few NYX lipsticks but I would prefer these over them. NYX felt more creamy while this had more matte-ness to it. I just don't like the packaging of these and wish they were in better conditions. Packaging plays a big role but I guess you gotta see the price of these too. These are worth it!
Has anyone tried these before?