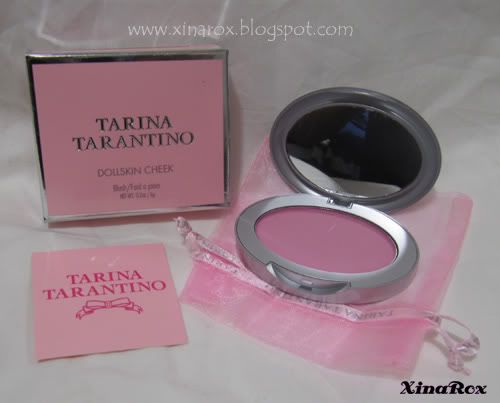 I was glad Sephora launched Tarina Tarantino's Make-Up line...I was then very tempted to try out their blushes. I can't help it....I have a thing for blushes. Also, I admit that I mainly bought the blush for it's packaging. lol
I've been buying many corals lately and so I wanted to shift the colour direction. Although, I don't think there will ever be a limit to having pink blushes in my collection...lol I'm just not a fan of frosty pink blushes like Mac's Love Rock. That blush looked very frosty/ashy on my skintone and weird looking in pictures and so I had to swap that one away.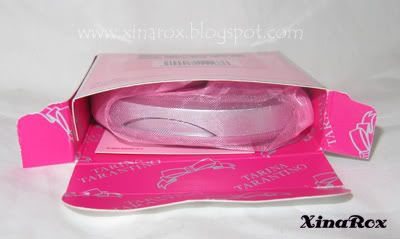 So the colour choices did not seem that unique but just for the sake of packaging and an URGE for another pink blush I picked
Carved Rose Dollskin Cheek Blush
. It's a gorgeous matte cool tone pink colour (no shimmer), I've been wearing it almost everyday for the past week and I love that it lasts a very long time and it gives me a fresh look. I didn't have to do much touchups either. It's very smoooth and pigmented but not overpowering and so you don't really need to apply that much.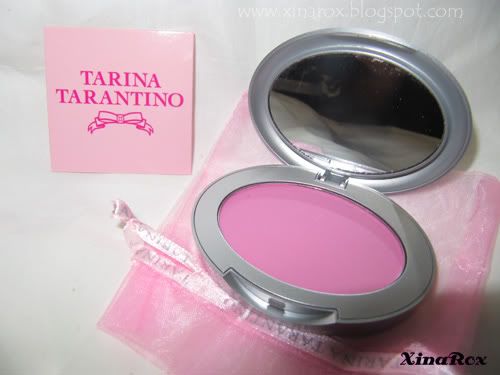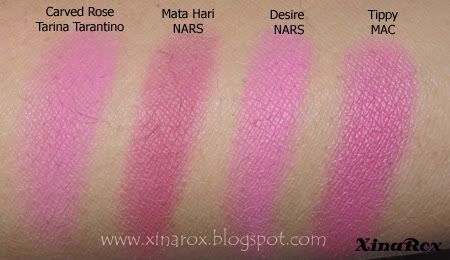 Pros:
-Very pigmented
-Smooth and easy to blend
-Lasts a very long time
-Cute packaging with a mirror inside
Con:
-Generally, there aren't many blush colours to choose from
-Overpriced and can look a bit toy-ish
-The small studs on packaging may have tendency to fall off
Overal Rating: 3.5/5
Final Thoughts:
I wouldn't purchase this again since I would probably never hit pan. I won't bother buying another blush from this line either since it lacks colour selection. Also, if you have Nars Desire or Mata Hari...you can easily pass on Carved Rose blush. Honestly, the colour isn't that unique and the only thing special about this blush is the the packaging. Overall, I still have not seen any product that looked impressive from the entire collection. The lipsticks/lipglosses are not pigmented as how I hoped them to be and they seemed to have more sheer like finishes. The collection is overpriced to begin with and so obviously, I wouldn't think the lippies would be worth it either.
Was there anything you liked from the Tarina Tarantino Collection?

Have you tried anything yet?