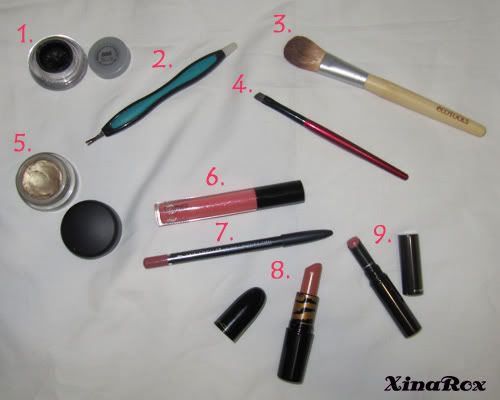 1. Wet N Wild Black Cream Liner:
I've been using this for about a month now. I'd say it's pretty good and goes on really well. It lasts all day long. I just don't know how long it will stay creamy in the pot since it's in plastic packaging ....it tends to dry up faster as oppose to glass packaging. I think this is around $5-6 Cdn at Walmart.
2. Cuticle Cutter/Trimmer:
This is a great tool that's used for your nails when you're giving yourself a manicure. Cuticles are pieces of skin that grow over the edge of the nail as a layer of protection but should be pushed back and trimmed away from the nail. Some people say it's bad to do...some are fine with it...it's really up to you! You can easily get this at Walmart for cheap.
3.Ecotools Foundation Brush:
This is an amazing brush and it's great for foundation/concealer application. It's really cute and super soft. Ecotools has many great brushes and I'm really impressed with all the ones I bought so far. You can try to get the brush sets at Winners for cheap rather than buying them individually from Walmart. It's still at a reasonable price when you're buying from Walmart. This foundation brush is around $5ish Cdn. There's also a new concealer brush out as well.
4. Posh Eyebrow Brush:
This is another brush I love. It's great for doing eyebrows. I got this on sale from Rexall Pharmacy store. It should not cost more than $5 regular price.
5. Mac Cashflow Paintpot:
A gorgeous khaki gold colour. I can wear this alone or under eyeshadow as a base. I really love this colour and I want Mac to come out with an eyeshadow that's exactly like this. They say Patina eyeshadow is the closest match but I don't really like the texture of that eyeshadow. So I hope in the future Mac releases an exact Cashflow pp eyeshadow colour preferably in veluxe pearl finish. =D
6. Mac Smile Dazzleglass:
It's a very pretty coral-pink shade with gold shimmer. I love applying it over almost all my nude pinks. It's like all other typical dazzleglass formula....thick and a bit sticky. Many people tend to just pair it with a lipliner like Spice.
7. Annabelle Demure Lipliner:
This is my HG lipliner. I raved about it a gazillion times. I almost use it everyday. It's a neutral pink shade. I guess it's similar to Mac's Sublime Culture lipliner.
8. Mac Tiger, Tiger Lipstick (LE)
: This is a gorgeous warm peachy nude (yellow tone) colour that is perfect for almost everyone. It's super creamy because of the amplified finish. It's too bad that it's Limited Edition but I'm glad I got it from the Mac Warehouse sale. It actually suits my skintone really well...much better than Cherish. I noticed that Cherish lipstick looked kinda boring on my skintone unless I used some lipgloss on top.
9. Mac Bare Slimshine:
This is LOVED by everyone. A gorgeous light neutral pink with subtle gold pearl. I don't know anyone who doesn't like this shade. It's so sad that it's being discontinued. =( I hope they have lipsticks that are similar to this shade.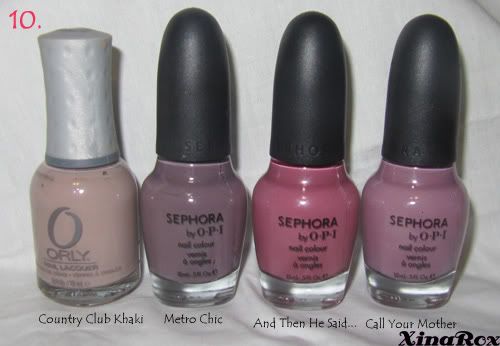 10.
These are four nailpolishes that I've been wearing very frequently:

- Orly: Country Khaki Club -
- Sephora by OPI: Metro Chic -
- Sephora by OPI: And Then He Said... -
- Sephora by OPI: Call Your Mother -
So what are you guys loving lately?