I guess it's never too late to start these types of posts. I've been meaning to do monthly favourites forever now and since the new year just started I decided to actually do it and stick with it this time. =)
1. Calvin Klein Euphoria Perfume:
I'm loving this perfume. I actually have the 50ml and a small 15ml one. I carry the small one in my big purse since I just can't get enough of it. You can use this daily with just
a spritz or two
. I'm not the best in describing fragrances but I find it very sexy and sultry and perfect for the day or night too. It's a mix of woodsy, spices and a bit of floral/fruityness without being overpowering. I actually find it very sensual and it's truly
Euphoric!
2. Make Up For Ever HD Foundation # 153:
I don't regularly use this foundation and use it occasionally hence the price tag on this...it is an expensive one. Back in December, I stayed over at a friends home and I actually left my regular foundation Mac Select Spf liquid foundation there and I recently met up with her last week and I finally got it back. lol In the meantime, I've been using the MUFE HD foundation and it's truly working for me. I'm actually liking my pictures more than usual when I wear this foundation...lol I guess it really works for HD camera purposes. =p I know many people say #153 is very yellow but I don't really mind it...it goes fine with my skintone. If you apply powder on top you can get some balance. Many people also mix it with MUFE HD # 155 to neutralizes it. I was going to buy # 155 as well but didn't feel like spending more money on foundation at that time. I already have to finish my old ones first and so I resisted. =)
3. There's actually
three lipsticks
that I've been wearing almost everyday for the past 1-2 months now.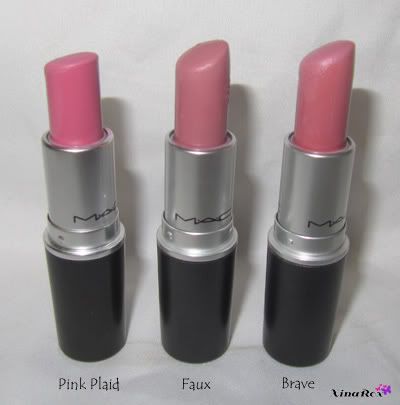 They all may seem the "same" but honestly, there are differences for sure. I love all three equally.
Mac Pink Plaid Lipstick:
This is a nude pink but with a barbie blue based pink touch to it with a matte finish. I can't get enough fo mattes! From my perspective, it's not too pale and not too dark either. This is the sister of Please Me lipstick but it seems to be more mauve-pink. Please Me is more lighter than Pink Plaid. I think if you don't use a lipliner it can seem a bit too chalky/pastel but not many brown girls will wear it everyday and would call it a "no-no" for Desi (south asian) skintones. Honestly, I love it though....it's bold and beautiful! =D I would say NC 42/43 skintone and lighter can easily pull off this lipstick alone. And yes.....you can always tone it down with a lipgloss. NO WORRIES! Also, remember to moisturize before you apply matte lippies.
Mac Faux Lipstick:
This is more of a *soft* mauve/rose muted pink nude colour with a satin finish. It's more toned down than Pink Plaid for sure. You can wear this easily with smokey eyes or just everyday. It has great colour payoff and its more creamier than matte finishes for sure. It's similar to Brave New Bronze but more pinky brown/mauve.
Mac Brave Lipstick:
This is the darker sister of Faux. It's a darker pinky-brown colour and you can wear it almost with everything. This is more of a wearable everyday colour. I can apply this lipstick without looking at a mirror lol....whereas I would definitely need a mirror for Faux. It should suit all skintones and all ages as well and a total must have for Desi (south asian) skintones!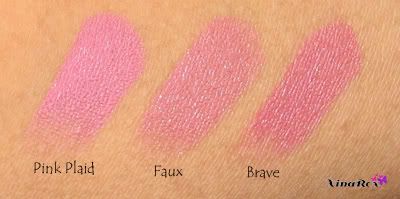 Pink Plaid, Faux, Brave
I hope you guys actually see a difference...each of them appear differently on my lips.
4. Mac Optimistic Orange Cremeblend Blush:
I have a
review
on this and you can see why I love it so much and used it so many times in the past few weeks. A gorgeous peach coral blush!
5. Mac 188 Stippling Brush:
This brush is truly made for cream blushes. AMAZING! It distributes the pigmented colour evenly with just the right amount and buffs it out so well.
6. Mac Moisturizing Lip Conditioner (tube):
This lip conditioner is quite moisturizing and it's nice that it's in a tube and not in a pot so you don't have to put your fingers in. I apply it almost everyday now mostly before I go to sleep and my lips are softer by the morning. It's great for the winter season and I always alternate between this and Rosebud's Strawberry lip balm.
7. Mac Lust Lipgloss:
This is probably the 100th time I'm mentioning this lipgloss on my blog but I can't help it. It's my everyday nude pink brown colour. I love it so much and I'm almost done this one so I know I'll be getting my fourth one soon. I love the stickyness of Mac since it gives me that reassurance and the feeling that it's actually staying on longer.
8. Mac Cheeky Bronze MSF:
This is officially my favourite MSF highlight. It's a GORGEOUS light coral/peachy bronze colour. It really compliments my skintone very well. It has shimmer but I wouldn't call it a glitter bomb either...it's safe for work environments too. I know this one is a limited edition product and so if I ever loose it or if it breaks....I'D CRY! lol IT'S THAT SPECIAL AND UNIQUE!