I bought Mac Patina eyeshadow a while back and just never got to use it and finally, yesterday I wore it in a look. :D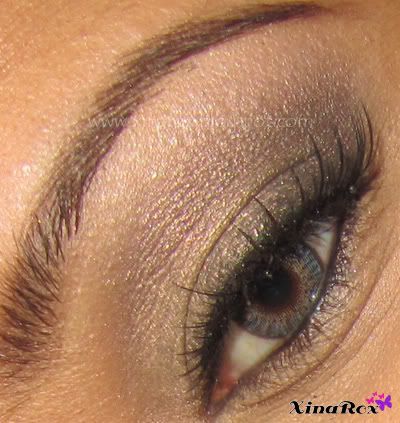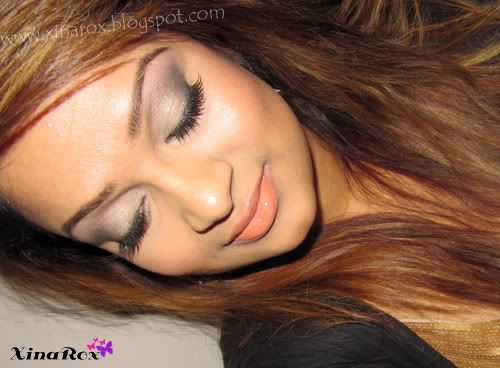 What I Used:
FACE
St.Ives Collagen Elastin Facial Moisturizer

(this is good and cheap...only $3 cdn or so)
Monistat Chafing Gel (Face Primer)
Mac Studio Sculpt NC 42
Mac Medium Dark MSF Natural Powder
Mac Select Coverup Concealer - NW 35 & MUFE #10 Full Cover Concealer
Mac Espresso Eyeshadow (Eyebrows)
EYES
Freshlook Colour Blends in Grey
Urban Decay Primer Potion (Eye Primer)
Mac Cashflow Paintpot (Eye Base)
Mac Patina Eyeshadow (On Lid)
Mac Satin Taupe Eyeshadow (Crease)
Mac Showstopper Eyeshadow (Darken Crease)
Mac Carbon Eyeshadow (Just a little bit, Outer-V)
Mac Feline Eyeliner (Rim the eyes and very thin top liner smudging effect)
Model 21 #132 Lashes (Asian Lashes)
CHEEK
Mac Refined Golden Bronzer
Nars Luster Blush
Mac New Vegas MSF
LIPS
Mac Dervish Lipliner
Mac Tiger Tiger Lipstick (LE)
Mac Light that Fire! Lipgloss
(only used on top in the second picture)
Here I used the new Gaga lipstick to see how it looks like. I realized it's much brighter than just a nude pink.
=====================================
Here I was playing with some colours. I'm trying to get back into the game...lol I feel so rusty!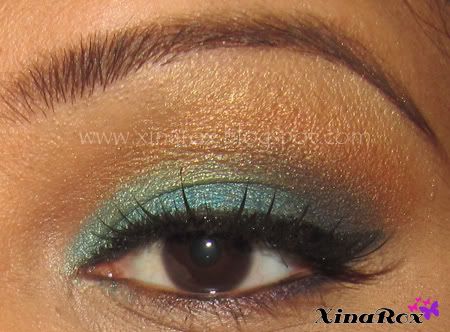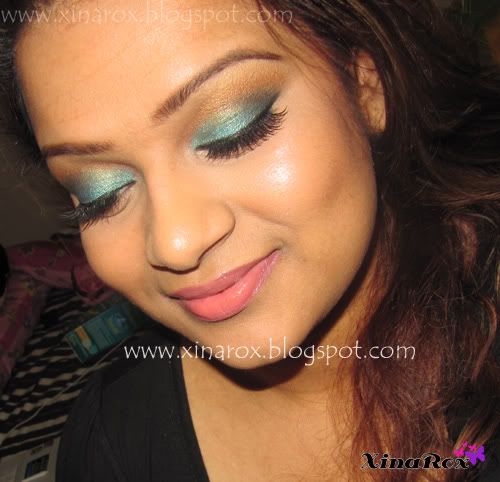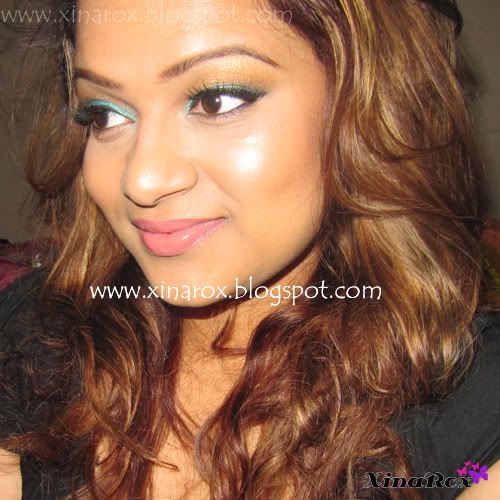 What I Used:
FACE
St.Ives Collagen Elastin Facial Moisturizer

(this is good and cheap...only $3 cdn or so)
Monistat Chafing Gel (Face Primer)
Mac Studio Sculpt NC 42
Mac Medium Dark MSF Natural Powder
Mac Select Coverup Concealer - NW 35 & MUFE #10 Full Cover Concealer
Mac Espresso Eyeshadow (Eyebrows)
EYES
Urban Decay Primer Potion (Eye Primer)
Mac Sea Me Shadestick (Eye Base)
Mac Steamy Eyeshadow (Inner Corner)
Mac Parrot/Talent Pool Eyeshadow (On Lid)
Mac Contrast Eyeshadow (Darken Crease)
Mac One off & Firespot Eyeshadow (Slightly Above Crease)
Wet N Wild Gel Black Eyeliner
(I couldn't find my fluidline in ages...so I bought this a month ago and this was the first time using it...it's pretty good (around $5ish) but I wonder how fast it will go dry since it's in a plastic container)
Model 21 #132 Lashes (Asian Brand)
LIPS
Mac Dervish Lipliner
Mac Bare Slimshine
=====================================
I won't really consider this an fotd...I never got to take good pics and I look shiny as hell and the pics turned out quite orange too. =S
EYES:
TheBalm's Shady Lady Palette
(Three shades: Highlight, Mid Golden Brown, Dark Brown)
CHEEKS:
Mac Refined Golden Bronzer, Mac Peaches Blush, Mac Cheeky Bronze MSF
LIPS:
Annabelle Demure Lipliner, Mac Twig Lipstick, Mac Diva Lipstick (Dabbed on top)