I was just passing through Sephora today (Yorkdale Centre) and saw some great sales and I couldn't resist so I ended up with a mini haul.
I hope you guys get there in time if any of this interests you.
Some of the Kat Von D Make-up products are on sale. I saw some lipglosses and their Autograph liquid eyeliners for
$10.00 Cdn

.
The Rock n Roll duo eyeshadows were on sale too for almost half the price ($10-12). They didn't have any black liquid eyeliners at all. I chose Romantico which is a dark antique gold (deep green khaki) colour. I was tempted to get the bright yellow gold one called Brass Knuckles but settled for just one for today.
==============================
I also noticed some pretty nailpolishes shades by Opi Sephora Nailpolishes were on sale for only
$7.00.
I snatched two colours.
Domestic Goddess (Matte)
- Bright Grape Colour
And Then He Said...
- Medium Mauve Pink Brown (reminds me of ChinaGlaze Fifth Avenue Nailpolish)
==============================
Ok...so for the
Cargo 50% off sale
...I'm probably the last person to go...lol I just never bothered and I assumed most of the good things are gone by now and it was true....nothing good was left.... A few lipsticks but they felt too sheer and some foundation/powders were left. No blushes. =( Obviously, I didn't even hope for blushes to be there. I wanted to get
SOMETHING
from this 50% discount...just to feel good! lol ;) so I got myself the Cargo Bronzer in Light. I'm sure this works best for fair skin people (as a bronzer) but this will actually help me stop from going overboard with bronzer and looking too orange. I like the amount of shimmer this contains and I can even achieve a glow with it. For me.... this feels more like a blush than a bronzer.
Now I'll include a quick FOTD! Literally it was real quick since I rushed my eyebrows, forgot to apply mascara and black liner to the waterline. lol
Anyways...whatever! =p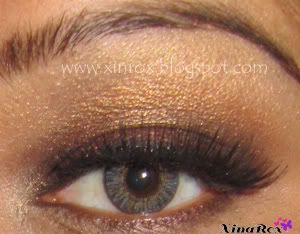 Face:
St Ives Facial Moisturizer Lotion
Monistat Chafing Gel (Face Primer)
Mac Studio Sculpt NC 42
Mac Studio Fix Powder Nc 42/43 (Lightly)
St.Ives Collagen Elastin Facial Moisturizer
Mac Select Coverup Concealer - NW 35 & MUFE #10 Full Cover Concealer
Mac Espresso Eyeshadow (Eyebrows)
Eyes:
Urban Decay Primer Potion (Eye Primer)
Urban Decay Eyeliner Pencil - Zero (On Lid as Eye Base)
Mac 100 Strokes Eyeshadow (Lid/Bottom Lashline)
Mac Saddle Eyeshadow (Crease)
Mac Amberlights Eyeshadow (Lightly Above Crease)
Mac Embark Eyeshadow (Darken Crease/Outer-V)
Mac Solar White Eyeshadow (Highlight/Inner Lid)
Mac Blacktrack Fluidline (Eyeliner)
Ardell 105 Lashes
Cheek:
Mac Blunt Blush (Contour)
Mac Peaches Blush
Mac New Vegas MSF
Lips:
Mac Brave Lipstick
==============================
OK here...I was playing around with The Balm's Shady Lady Eyeshadow Palette...I just love it...the eyeshadows are SOOO SMOOTH and BUTTER LIKE! Anyways, I'm also wearing Mac's Light That Fire! lipgloss and I'm LOVING this too! It looked so coral frosty when swatched and I got a bit scared since I dont like frost finish much....lol but it looks GORGEOUS on the lips. It's Limited Edition...so grab it if you don't have a similar shade!
Face:
St.Ives Collagen Elastin Facial Moisturizer
Monistat Chafing Gel (Face Primer)
MakeupForever HD #153 - This seems so yellow on me now..I gotta mix it with some other shade next time to neutralize it.
Mac Studio Fix Powder Nc 42/43 (Lightly)
Mac Select Coverup Concealer - NW 35 & MUFE #10 Full Cover Concealer
Mac Espresso Eyeshadow (Eyebrows)
Eyes:
The Balm Shady Lady Eyeshadow Palette
Ardell Wispies
Mac Blacktrack Fluidline
Maybelline Define A Lash Mascara
Urban Decay 24/7 Eyeliner - Zero
Cheek:
Mac Refined Golden Bronzer
Cargo Rome Blush
Mac New Vegas MSF
Lips:
Mac Light That Fire! Lipgloss (Limited Edition)