Where do I begin with creme blushes?
Well, I was never a big fan of them. Especially the Mac creme blushes had really let me down. I own Mac's Ladyblush creme blush and rarely use it. I hated that they felt so heavy and sticky. So I preferred Nars multiples since they were creamy but still lightweight. I also heard that Illamasqua creme blushes are great too. (Too bad Sephoras in Canada do not carry this line yet)
I recently purchased
Mac Optimistic Orange Cremeblend Blush
from Mac's Lillyland collection and it amazed me. I loved all the colours from this limited edition collection. The texture isn't heavy at all and has this gel like formula to it. The formula seems soft and easily blendable and very buildable. It's easy to use your fingers or a brush for the application and leaves you off with a dewy fresh look. I have combination skin and I never really had any problems with looking too oily but since this new formula is gel like, it should be fine for people with oily skin.
So Sweet, So Easy
Florida
Optimistic Orange
Joie-De-Vivre
From the four beautiful colours, I chose
Optimistic Orange.
I prefer coral shades on my cheeks rather than pink.
Please do not let the bright orange colour scare you off!
It's actually a beautiful coral colour. It should work well with all skintones but looks gorgeous on medium to dark skintones. When applied on medium to dark skintones, you're able to see a hint of pink in the blush. I preferred using the 188 Mac stippling brush to apply and I buffed it with the same brush. It is really up to you and which brush you're comfortable with. You can easily use fingers to apply as well. Then it's optional to dust a highlight msf on top.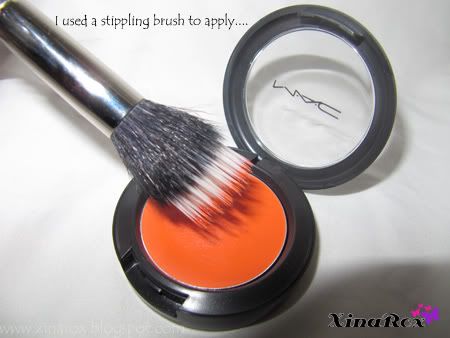 Mac Cheeky Bronze MSF would go lovely with this blush!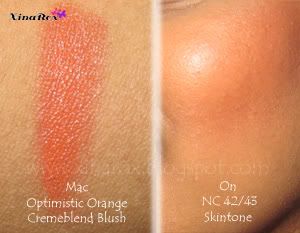 I'm glad Mac came out with this new formula and I hope they eventually make this a permanent product with more colour selection. I might also go back for
Joie-De-Vivre cremeblend blush. Now that's another gorgeous coral-pink shade.
... JUST SO AMAZING!
Product Rating: 5/5