Some hair colouring/highlighting pictures from the past.
I know I have fine hair and that I colour/highlight/bleach my hair a few times a year, so obviously it does get damaged but then I try to repair and takecare of it well. I do use heat styling irons and blowdryers regularly and so with all the torture my hair faces, it results in having dry and tangly hair. That leads to conditioning with hot oils and different treatments and some do work well. I always say....It's all about damage and repair baby! lol My favourites are olive oil based treatments. It really makes my hair very soft.

I was at a hair salon for a trim last month and the hair stylist suggested I use Moroccan Oil. You just have to apply a dime to the palm of your hands and apply it to your wet/damp hair all over. She used it on me and it was amazing. It made my hair very smooth, shiny and tangle free. It smelled really good too. She tried to sell the bottle to me and it was around $38-40ish. I decided not to go for it then even though I was aching for it so badly lol. The price was super expensive for a small bottle of oil. Plus, I wanted to research some more before I commit to such a price. The hair stylist showed e some cheaper alternative Organic hair oils for around $25. I just decided to go home and research before buying anything.
I did read good reviews online about the Moroccan Oil. It was the price that kept bothering me and seemed overpriced.
Later, I went to Sally's Beauty Supply Store and I came across
One 'N Only Argan Oil
Treatment which is derived from Moroccan Argon Trees....which is ultimately an organic hair oil! I took a chance since it was around $12.00!!! I bought it right away.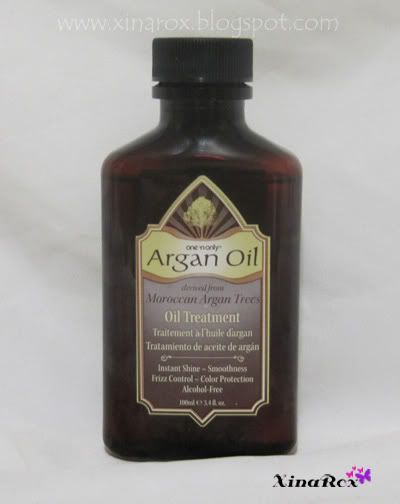 I used it a couple of times already and it actually feels the same way Moroccan oil felt. It smells real nice. It made my hair feel soft and silky smooth without being too greasy. My hair was less frizzy too and looked more healthy. I just had to use a tiny bit (one teaspoon approx.) and I applied it to my wet hair (after shampoo) and I either let it airdry or I used a blowdryer and styled it. I applied it to dry hair as well and it was able to soak into my hair really well. I would say this is the generic version of Moroccan Oil. It works better than serums like CHI Silk Infusion or Biosilk Silk Therapy.
Just to sum up...
PROs:
-The price is reasonable and very cheap when compared to Moroccan Oil.
-Makes hair feel soft, silky, healthy and tames it from being too frizzy
-Serves as a heat protector
-Can be used as a hot oil treatment
-Smells real good (unlike Chi Silk Fusion...smells like men cologne)
CONs:
-Would prefer better packaging...like a pump to dispense the product out
-Cannot put too much or else it will be too oily (it is a natural oil serum...a fact)
Here's a comparison.....

Ingredients in
Moroccan Oil:
Cyclopentasiloxane, Dimethicone, Cyclomethicone, Butylphenyl, MethylPropional, Argania Spinoza Kernal Oil (Aragan Oil), Linseed (Linum Usitatissimum) Extract, Fragrance Supplement, D&C Yellow-11, D&C Red-17, Coumarin, Benzyl Benzoate, Alpha-Isomethyl Ionone
Ingredients in
Argan Oil:
Dimethicone, Cyclopentasiloxane, Dimethiconol, C12-15 Alkyl Benzoate, Fragrance (Parfum), Argania Spinosa Kernel Oil, Yellow 11 (CI 47000), Red 17 (CI 26100)
I'm glad that this product is out and it's like an all in one oil treatment bottle. A natural organic oil that comes directly from Moroccan trees. You can easily get this product at any Sallys Beauty Supply Store.
Product Rating: 5/5
Would I purchase this product again? Yes!
Disclaimer: This product was purchased and reviewed by me. I am not getting compensated for this post or have any affiliation with this product company.