I've been really M.I.A for sometime now. It's been ages since I've done any blogging. =(
Anyways...I wanted to start off by doing some product reviews on Annabelle. Annabelle is a Canadian drugstore make-up company and I've been using their products since my
highschool
days. I am already a big fan of their eyeliner and
lipliners
and I did want to try out some of their newer products as well. Isabel from Annabelle was very sweet and had sent me some of their products to review. She sent me these products a while back but since I was sick I could not do the reviews earlier. Sorry about the delay Annabelle! =(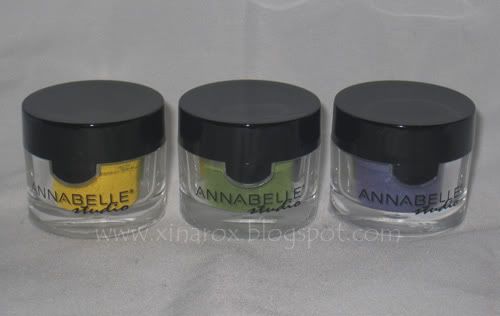 Annabelle Studio Pigments:
These are bright and gorgeous finely milled loose
eyeshadows
. They go on very smoothly and have great pigmentation. I applied just one layer of these shadows and they appear so vibrant and pigmented. I love how these do not contain too much glitter/shimmer and has more colour.

These swatches are just too pretty!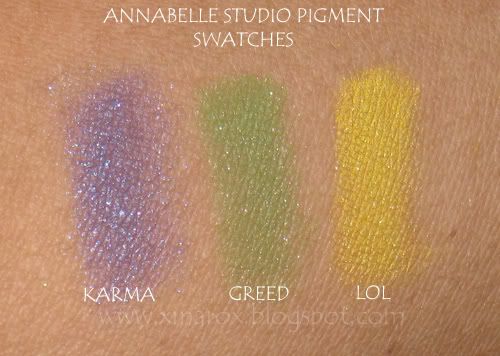 I received Karma, Greed and
LOL
. Karma is my favourite and it looks super hot on top of a black base...especially to make purple smokey eyes. I think I'll even do an
FOTD
with it. =)
The
eyeshadows
do not have any type of
flyaways
either. They apply very well.
The packaging is well done and I especially like the small opening at top which allows a small
shader
brush to pick up the shadow without making a big mess.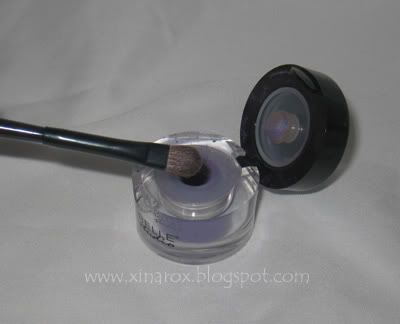 The only drawback is probably the staying power. I have oily eyelids and these shadows tend to fade on me faster and the best solution for this issue was to simply use an eyeshadow primer/base.
Overall Rating: 4/5
+++++++++++++++++++++++++++++++++++++++++++++
Angle & Small
Shader
Brush:
Small

Shader

Brush:
This is my favourite Annabelle brush and it's good for applying the lid colour. It's soft, small and dense and great for beginners. It picks up the colour very well and evenly distributes the shadow on the lid. The bristles are soft enough to blend colours on the lid. I believe if you condition these brushes regularly.....it will not become frizzy and will last you a long time.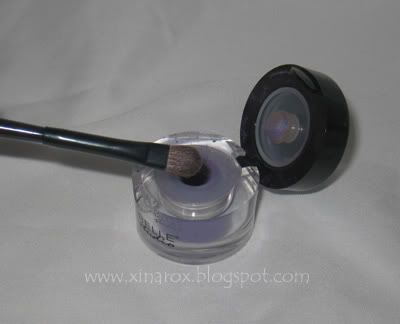 Overall Rating: 5/5
+++++++++++++++++++++++++++++++++++++++++++++
Annabelle Smudge Liner Eyeliner
: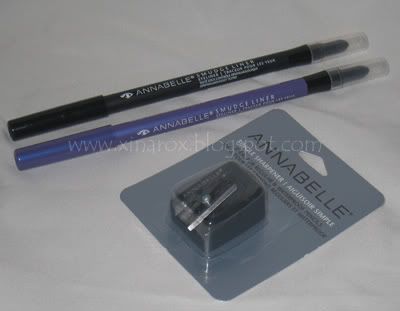 I received the eyeliners Vortex Violet and Oh My Goth! and they seem very intense and vibrant when applied. They go on smoothly and lasts long when applied on the lid itself. These work great for smokey eyes and the smudge/sponge tip on the one side of the eyeliner pencil helps you make gorgeous looks. Since these are so creamy, you can apply it to the lid to make an eye base and make eyeshadow appear more vibrant and bolder.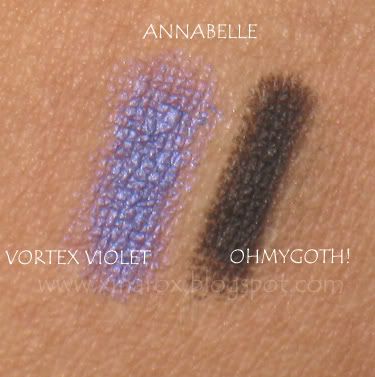 Initially, when I applied it on the waterline it stayed put for a while and it eventually faded and did smudge. This is very typical for me since nothing really does last long on my waterline. It may vary for others. The only difference I found between these and Annabelle's normal eyeliners were that these seemed more creamier and softer.
Overall Rating: 4/5