I wasn't too impressed with Mac's holiday collections this year. Some of the palettes were nice but I found them too small and I don't know if they hold the same eyeshadow quantity as the previous holiday palettes. The mineralize eyeshaows were all gorgeous but seemed dupable. I might go again to check them out and see which one I really want and I might B2M for it. =)
The three cremesheen glosses released this holiday are Partial to Pink, Ever So Rich and Boy Bait. These are all repromotes. I went to Mac and got myself Boy Bait Cremesheen Glass. The one that was missing from my stash. These are sold as singles and are the same price as dazzleglasses.
It's annoying how they didn't release pigmented colours since I love cremesheen glosses. I find them to be so creamy and they just apply so well. These do not contain any glitter/shimmer. All three repromotes are too sheer for pigmented lips and I would rather apply them on top of lipsticks. It also seems like Ever So Rich is made to be worn on top of my favourite LAVENDER WHIP lipstick!! ;)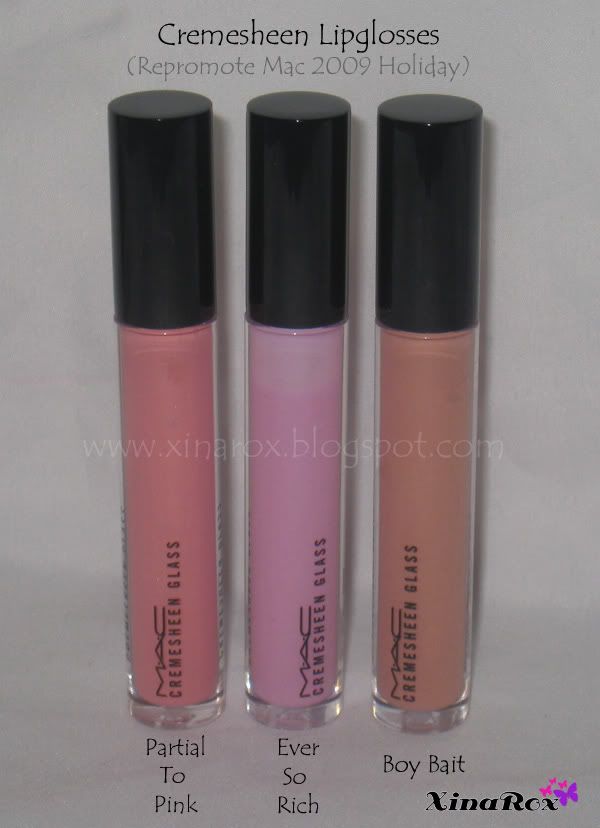 These are the rest of my Cremesheen Glass Collection from before. All are limited edition.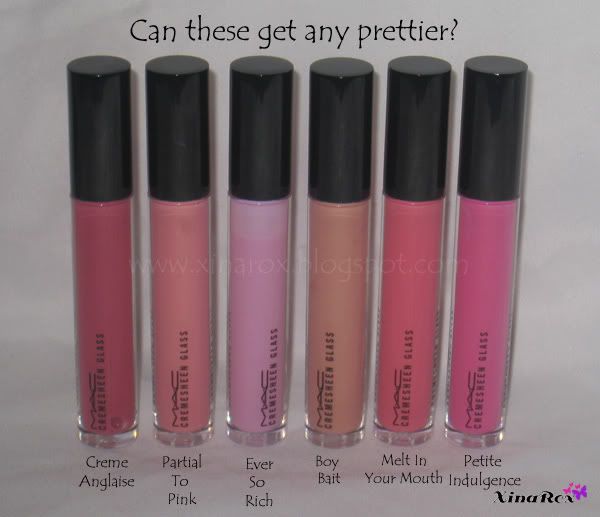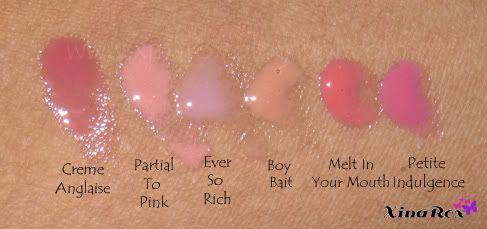 Creme Anglaise, Partial To Pink, Ever So Rich, Boy Bait, Melt In Your Mouth, Petite Indulgence
My Favourites are Petite Indulgence and Melt in Your Mouth.
I can easily wear Petite Indulgence, Melt in Your Mouth and Creme Anglais alone without any lipstick under.