This will be my last collective haul post for now (I hope...lol).

These products are purchases I made from Sephora in the past and yesterday during their 20% off discount sale. I received an e-mail coupon with a bar code and I had to print it out and show it at the Sephora store to get the discount. This discount ends November 15. If you are an active Beauty Insiders Member, you would've received this e-mail as well.
This is going to be a LONG POST!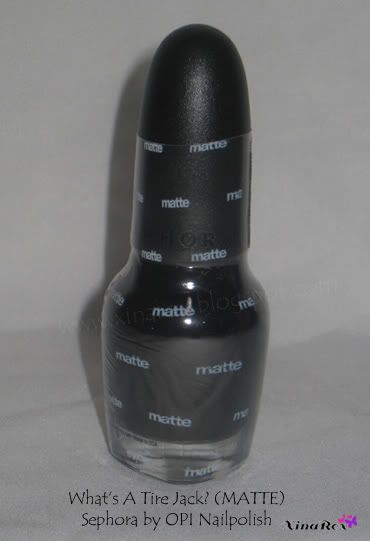 I hopped on the bandwagon (a bit late) and got myself the matte black nailpolish....
What's a Tire Jack?
(matte) Sephora by OPI Nailpolish. It's been a common trend for a while now and I really like it. I actually want to get the clear nailpolish that you apply on top to make any nailpolish surface into a matte finish. I can't remember the product name right now....hmmm I would love to do some nail swatches but my nails are pretty short and weird looking right now...so hopefully once I grow them out...I'll post some nail swatches. =)
=============================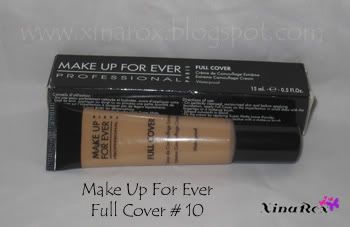 Make Up For Ever Full Cover #10 Concealer :
This is a staple in my basic foundation ritual. I love the pigmentation of this concealer and I don't think I have found another brand that beats it. Only drawback is that they don't have enough colour shades in this product and I have to end up mixing it. I cannot use this alone and I would mix Mac Select CoverUp liquid concealer NW 35 along with it. It works great for me. =) It's expensive but WORTH every penny. =D
=============================


The Balm's HOT MAMA! Blush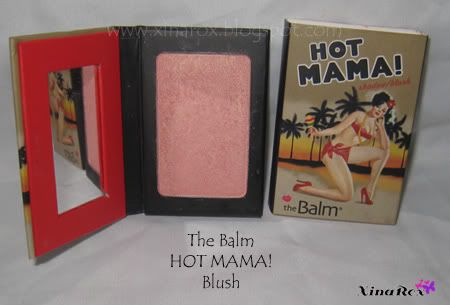 The Balm's HOT MAMA! Blush:
I've been wanting this blush for a while now. I took advantage of the 20% discount so I can explore some new brands. =) It's a gorgeous light peachy pink colour with a gold sheen. The texture is very smooth and pigmented. This can be used as a blush, highlight, or eyeshadow. People say its similar to Nars Orgasm blush but to me, it seems much lighter. Since it is light...many use this as a highlighter rather than a blush to get those glowy cheeks. The packaging is cute with a mirror inside and a magnetic closure but I'm not a big fan of cardboard so I hope it doesn't wear out that easily. Also, many people prefer this over Nars Orgasm blush since it has so much more product inside.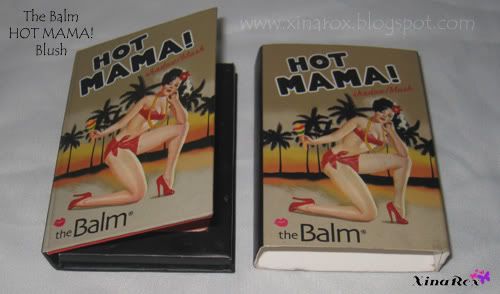 Benefit's Coralista Blush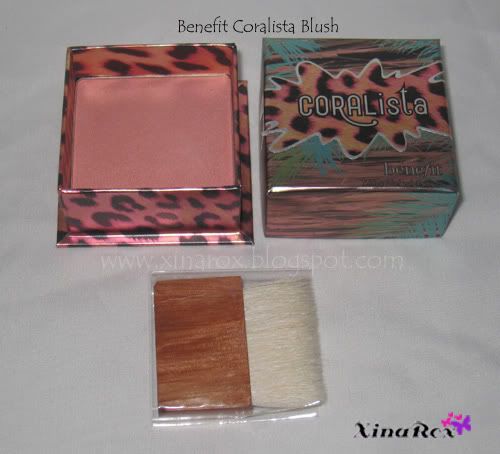 Benefit's Coralista Blush:
Again, I wanted to explore some other brands. I decided on this blush and it's another gorgeous light pink-coral blush. It reminds me of Mac's Dainty Mineralize Blush which I don't have. It has a nice smell to it and comes with a mini brush. I don't really like the brush and I'd prefer just using my own blush brush. This product seems overpriced since it comes in a construction box form, however I do find it to be a sturdy box and I know some may not agree on this at all. I actually find the packaging cute with the animal print but again, I'm not too fond of construction paper packaging.
The Swatch Comparisons
=============================
NARS!....NARS!....and more NARS!
I bought a ton of Nars products this time around and it's quite hard to resist their magic...I'm becoming a NARS ADDICT!
Deep Throat Blush, Mata Hari Blush, Taj Mahal Blush
Deep Throat Blush:
I've become such a fan of peachy-pinks that I got myself another one to join my Nars blush collection family. =) This seems more pigmented than Nars Orgasm and it doesn't contain the gold specks that Orgasm has. Many prefer this blush over Orgasm but I love them equally. I am a blush whore for sure! =D
Mata Hari Blush:
This is a gorgeous light rose petal pink matte blush. It's very pigmented so you gotta use a light hand and it goes on smoothly. It doesn't give you that chalky look either. This might be similar to Mac's Dollymix blush. I believe this would look gorgeous on all skintones. =D


Taj Mahal:
I have been wanting this for a LONG time now and I finally got this scary, bright, and intense orange blush! This is SUPER PIGMENTED and you can easily use this as an eyeshadow too. It goes on very smoothly and I love the shimmer of it. It looks pretty orange in the pan but when you apply it, you get this pretty peachy apricot colour. It's very intense so you gotta use a light hand and be alert of the level of application. It's very popular amongst the darker skintones. =D
Swatches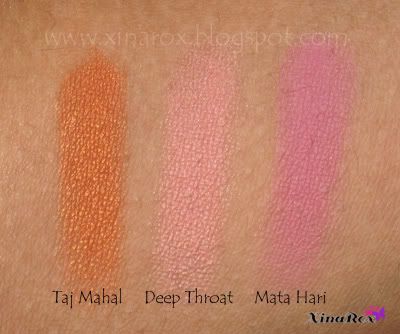 Taj Mahal, Deep Throat, Mata Hari
The Swatch Comparisons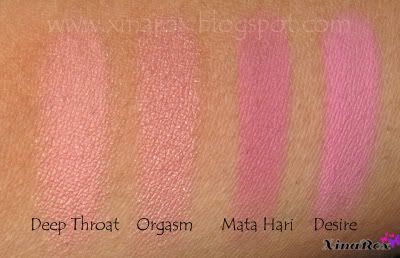 Deep Throat, Orgasm, Mata Hari, Desire
-----------------------------
Nars Mediteranee Eyeshadow Duo Vs. Nars Taj Mahal Blush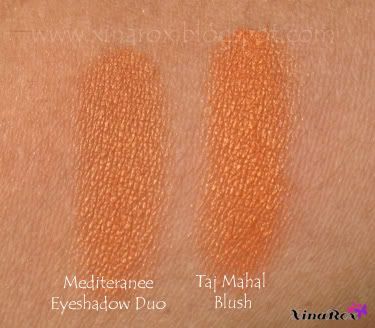 The eyeshadow duo seems a bit darker then the blush...you can use any of these products in both eyeshadow/cheek application.
=============================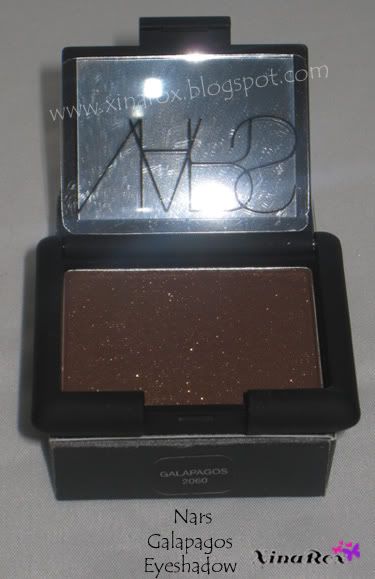 Nars Galapagos Eyeshadow (Single)
Nars Galapagos Eyeshadow
: An intense deep true chocolate brown eyeshadow with gold glitter. It's very pigmented and goes on smoothly. You don't see too much of the gold glitter once you apply it but keep in mind, although it is minimal, there will be some fallout during application. You can use this shade for lining, on the crease, all over the lid, or outer V. It's a pretty popular shade too.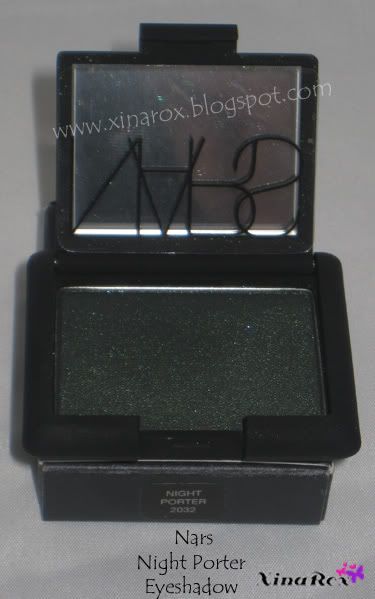 Nars Night Porter Eyeshadow (Single)
Nars Night Porter Eyeshadow:
A GORGEOUS dark emerald green with green shimmer eyeshadow. I've been wanting this forever! I always thought it was the same as Mac's Humid eyeshadow but it's no where near. This will be great for dark smokey eyes and it'll look hot on top of a black base. ;)
Nars Strada Eyeshadow (Single)
Nars Strada Eyeshadow:
A gorgeous lavender shade with gold shimmer/glitter
.
Many have complained that it ends up looking like a greyish lavender colour and it doesn't show the same colour that you swatched on your hands....but to get the true colour on the lid, it works best with an eye primer and a white or lavender base.
I can't wait to do FOTDs on this beauty!
Swatches

Galapagos, Strada, Night Porter

-------------------------
Nars Eurydice Eyeshadow Duo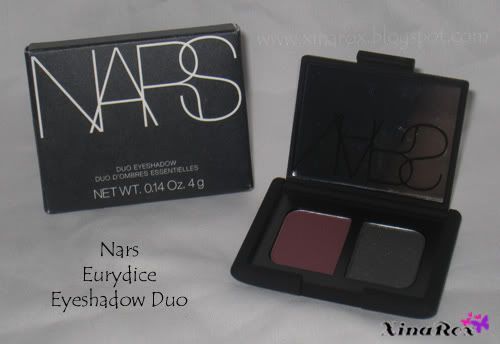 Nars Eurydice Eyeshadow Duo:
This came out this year 2009 in the Nars Holiday collection. It's an eyeshadow duo and it contains two shades. A shimmery grey charcoal colour which is incredibly GORGEOUS! The purple shade stood out to me the most and it was what really caught my eye. It is an intense deep shimmery purple with a blue iridescent sheen. My swatch pictures do not give it justice at all. Please go to Sephora now and swatch this gorgeous purple colour....you'll see the magic instantly!
Nars Eurydice Eyeshadow Duo
Swatches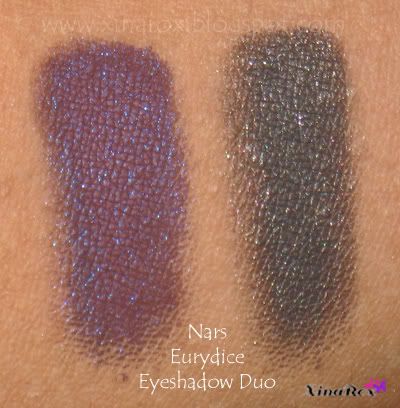 =============================


NARS MULTIPLES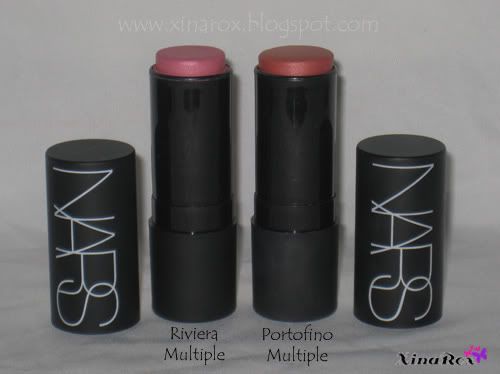 Multiples are multipurpose and can be used in many ways.
These glide on smoothly and lasts a long time. It works great as a blush base or you can just wear it alone.
I already have South Beach and Orgasm multiple.
Riviera Multiple:
This is a baby doll pink colour

and it does not contain glitter unlike the Orgasm multiple.
Portofino Multiple:
This is a coral pink colour with a bit of frost and it seems to have a smoother consistency than Riviera. It basically "melts" on my skin and goes on very nicely and blends in quite well.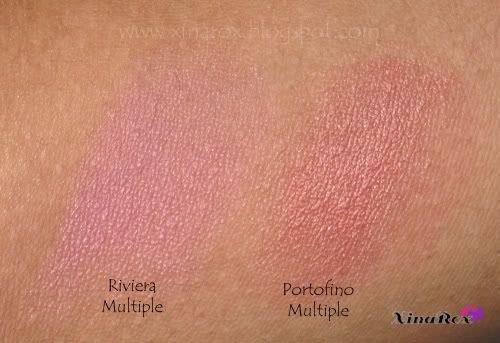 Riviera Multiple, Portofino Multiple
=============================
Last but not least....



Nars Pop Life
Velvet
Matte Lip Pencil


Pop Life Velvet Matte Lip Pencil:
This came out just now in the Nars Holiday 2009 collection. This is a gorgeous red-coral colour and it literally GLIDES on so smoothly on my lips leaving a matte finish. No doubt...it goes on velvet like! I can't wait to wear it out! =D Now, I'm really tempted to buy more Nars lip pencils...why didn't I discover these babies earlier??? I guess I should buy the lip pencil giftsets which are a much better deal then buying these individually. Hopefully, Holt Renfrew/Sephora will release them this year or I would have to buy the set online.