Hello Beauties! ;)
The next couple of posts will consist of collective hauls. So don't be surprised now! lol ;)
Let's begin with the Mac haul...
Blush Palette
: This is my third one...lol I keep depotting blushes to B2M...I can't help it! ;)
Peaches Blush:
This is truly my favourite Mac blush ever after Desert Rose. It's my new HG peach blush! It's a true peach colour without having any coral or pink undertones. The texture is smooth and since it's sheer, it can be buildable without looking cakey. It does not contain much shimmer so putting an MSF on top would be optional. I believe it would look pretty on fair or darker skintones. It may seem boring in the pan but trust me on this! It's simply gorgeous!
Bright Future Eyeshadow:
This was a limited edition eyeshadow back from the Style Warriors Collection. It's a pretty yellow shade and it's similar to Mac's Bright Sunshine Pro eyeshadow. It's nice that it's a veluxe pearl since I never liked the texture of Chrome Yellow...this would be great alternative.
Mac Face and Body Mixing Medium:
I bought this just in case if I was going to do something for Halloween...but I didn't so I'll find other uses for it....especially I'll be using this with pigments. =)
=============================
I got myself some more brushes.
129:
A great multipurpose brush. You can use it for blush or powder.
210:
My favourite eyeliner brush. I had to buy another one since I lost my previous one. =( I'm very used to this.
263:
My first Mac angle eyeliner brush. I heard it makes winging out the eyeliner much easier. So let's see how that turns out.
213:
A fluff eyeshadow brush. You can apply use eyeshadow on the lid or highlight area.
231:
I always wanted this eyeshadow brush. It's great to apply eyeshadow to the inner lid corners.
=============================
I got a few nailpolishes from Style Warriors ( I know...I'm pretty late) and Style Black collection.
Mercenery, Violet Fire, Seriously Hip
=============================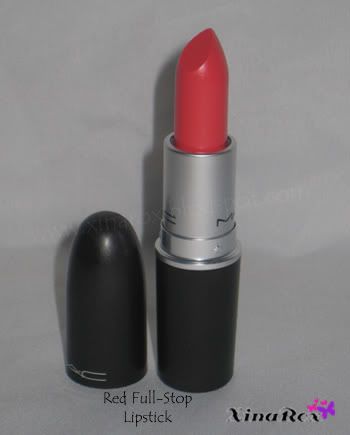 Red Full-Stop Lipstick (lustre) Limited Edition
I was really glad that this lipstick was still in stock at my local Mac store. It's a gorgeous bright pink-coral lipstick. It seems a bit neon when swatched. The name itself is misleading and I don't really see much "red' in it. Even though it's a lustre, it has great colour payoff and it is buildable as well. You can easily tone down the brightness with a lipgloss or dazzleglass.
=============================
Conjure Up, Superdupernatural
(Mac Holiday 2009 Collection)
I thought I wouldn't buy these babies but I gave in...I can't resist mineralize blushes and especially these kinds since they are not glitter bombs. =) These remind of the Sonic Chic formula which is LOVE! I love collecting Mac mineralize blushes!=)

Conjure Up:
A plummy/wine colour but when applied comes out as a flushed pink shade. It reminds me of Hushabye blush but not as plummy. This colour isn't that unique and I don't really consider it a must have either....seems dupable.
Superdupernatural:
What a Name! lol It's a gorgeous peachy gold shade and it does not contain glitter and it has the perfect amount of shimmer in it. It really gives you a natural glow. It reminds me of a darker peachier version of Fad-dabulous mineralize blush from the Colour Craft collection and it's a tad darker than Nuance mineralize blush.
Swatches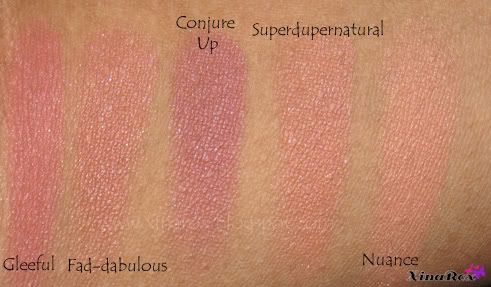 Gleeful, Fad-dabulous, Conjure Up, Superdupernatural, Nuance
=============================
Mac Mayhem Mineralize Eyeshadow
Mac released some gorgeous Mineralize eyeshadows this holiday. To be honest, this is the best formula they used for mineralize eyeshadows. Apart from the glitter side, the eyeshadow itself is not chunky at all and goes on VERY SMOOTHLY! It does not create much fallout during application. It does seem pretty pricey for just one shade and the glitter doesn't make it seem all worth it. I got mines for free through the Back to Mac program (6 empties).
I would suggest buying a colour that stands out most to you. My second choice was Blue Sorcery which is a beautiful teal colour but I already have Parrot and Talent Pool eyeshadow (these are dupes). I'm a big fan of gold and so I chose Mayhem to add to my collection.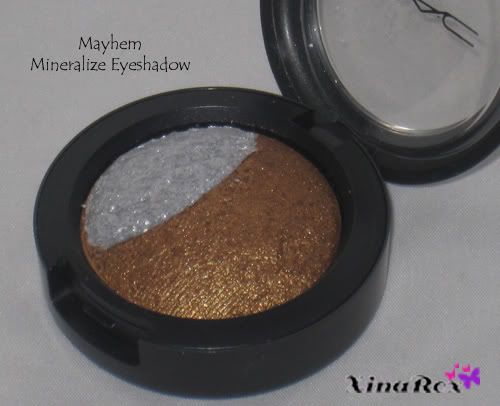 =============================