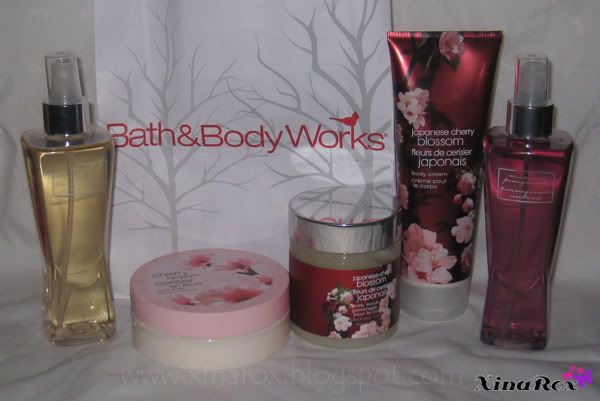 There's a sale going on right now at the Bath and Body Works store.
Buy Any 3, Get 3 Free.
This discount is towards the Bath and Body Works Signature Collection Body Products.
There are many kinds to choose from.
I'm suppose to have 6 products (in the pic) but I gave one to a friend.
I absolutely love their products. Especially Japanese Cherry Blossom...it' smells MAGICAL!!! lol I kno.... I'm really bad at describing the scents so please spare me here. =p But I am a fan of floral/sweet/fruity products. =)
The Products I Got:
(Prices are in CDN Dollars)
Japanese Cherry Blossom Fragrance Mist - $12 Regular
Midnight Pomegranate Fragrance Mist - $12 Regular
Japanese Cherry Blossom Body Scrub - $17 Regular
Japenese Cherry Blossom Body Cream - $12.50 Regular
Cherry Blossom Body Butter - $15.50 Regular
Remember, I paid for 3 and I got 3 free! =) So I only paid half the regular price of each! =D


Don't you just love the packaging of Japanese Cherry Blossom???
IT'S SOOO PRETTY!
Check these out at your closest Bath and Body Works Store!
Tip: Take advantage of this discount and you don't really have to buy all 6...you can always share the purchases with your friends to get half price. 3 for you and 3 for me? =D
The Bath and Body Works Website
============================
Oh yeh...I also went to Aveda and got my third
Volumizing Tonic
...I've been using this for four years now and I can't get enough of it. It's a glass spray bottle and it kinda reminds me of a medicine bottle...lol. I apply this to my roots as my hair is wet/damp and then I'd blow dry if I choose to. A great product but it is expensive.