Mac Make-up Art Cosmetics Fall collection is HUGE!

I got myself two products from this collection. The Mac Pro Store (downtown Toronto) released this collection early like always. I think the actual official release date is August 20, 2009.
Check out
Temptalia's website
for more details of this collection.
This fall collection has three eyeshadow quads out. I chose
Photo Realism
eyeshadow quad since it stood out the most and it had two veluxe pearls and I just can't get enough of that finish. It just glides on with a silky finish. I love all the four colours as well and none of the colours were repromoted. I also liked
Skintone
eyeshadow quad since it has such pretty neutral colours. I really liked Notoriety eyeshaodow in it which was like a peachy pink shade. JUST GORGEOUS! I might get it next time...not sure. The third quad is called
Private Viewing.
It has some pretty pink/purples in it but it had two matte colours and I'm just not a big fan of matte shadows unless it's for darkening the crease. So I passed on it. I didn't bother with any of the new lipglosses or lipsticks. They were just "meh" looking to me. I guess I already have colours similar to it. The new eyeliners looked cool too but I can easily use mixing medium to make vibrant liner colours. This collection also had many new/repromoted glitters and pigments. Nothing was really that unique to actually buy the pigment jar, instead I would just get sample pigments/glitters from this line.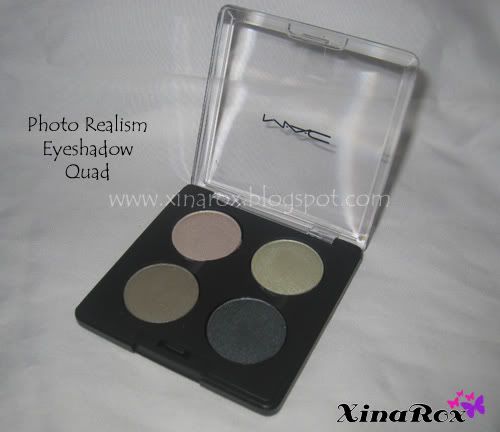 Photo Realism Eyeshadow Quad
Swatches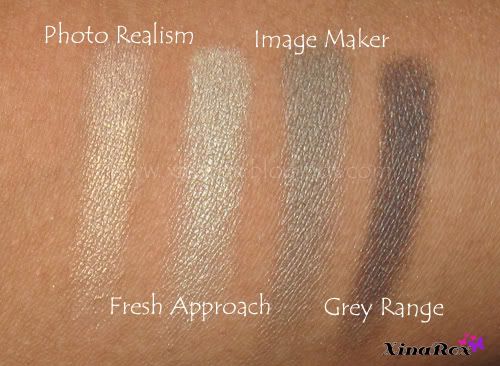 Swatch Comparisons
*I forgot to include Humid eyeshadow*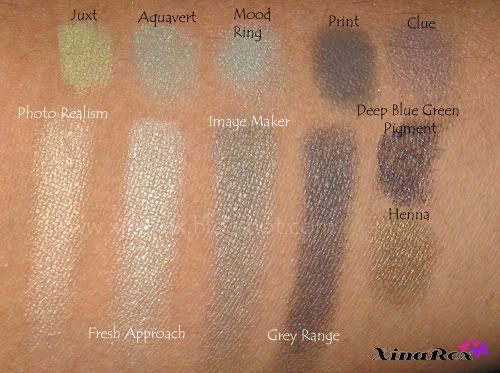 Juxt, Aquavert, Mood Ring, Print, Clue, Photo Realism, Fresh Approach, Image Maker, Grey Range, Deep Blue-Green pigment, Henna
Grey Range eyeshadow and Deep Blue Green pigment seems pretty alike.
The new fall collection also has some single eyeshadows released. Some are new/ repromoted.
I chose
Off the Page
Eyeshadow (frost) since it was the most unique of them all. I couldn't find anything too similar in the perm collection to compare it with . However, it seems pretty similar to Fab and Flashy (LE) eyeshadow but more pigmented/vibrant. Fab and Flashy is very sheer when swatched and you would have to pack it on to show colour. Generally, I didn't like the texture of the new single eyeshadows but I loved Off the Page and wanted to add another orange eyeshadow to my collection.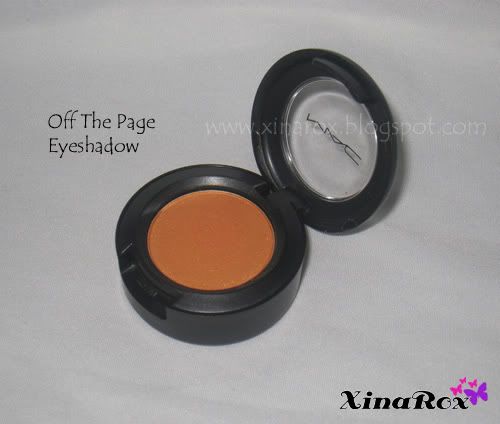 TA DAA!!!
My Orangey Eyeshadow Collection!
Swatch Comparisons
Off the Page, Firespot, Nars Mediteranee, Megarich pigment, Juiced
People said that
Off the Page
was similar to Firespot....it's so
NOT TRUE!
Firespot is more reddish orange and it's much more intense. Another GORGEOUS UNIQUE SHADE! Why can't Mac make these colours perm? =(
Hmmm...I can just picture an eyeshadow combo right now...Off the Page (lid) + Plumdressing/Hepcat (crease) + Sketch (outer-v) + any pretty highlight = JUST GORGEOUS!
I guess if you just want ONE item from this collection...I would recommend
OFF THE PAGE eyeshadow!
I guess that's the end...hope this helps y'all out! ;)