Annabelle
(Canadian drugstore brand) has some of my favourite eyeliner/lipliners. They go on creamy with great pigmentation and they cost quite reasonable too. Here are some of the eyeliners and lipliners I have.....(no...I never got these for free like some people did...I
actually bought these)
Kohl Eyeliner Pencils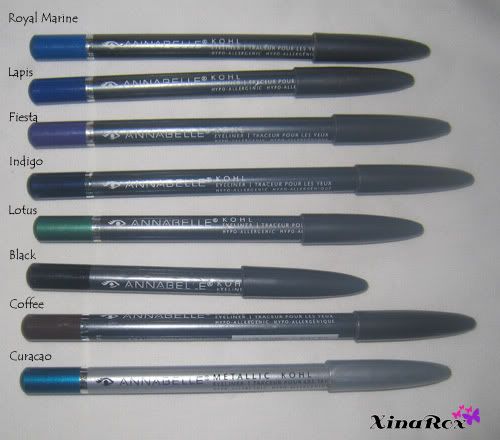 These eyeliners can easily be used as eyeshadow bases on top of a good eye primer.

The Swatches:
Royal Marine, Lapis, Fiesta, Indigo, Lotus, Black, Coffe, Curacao
Lipliner Pencils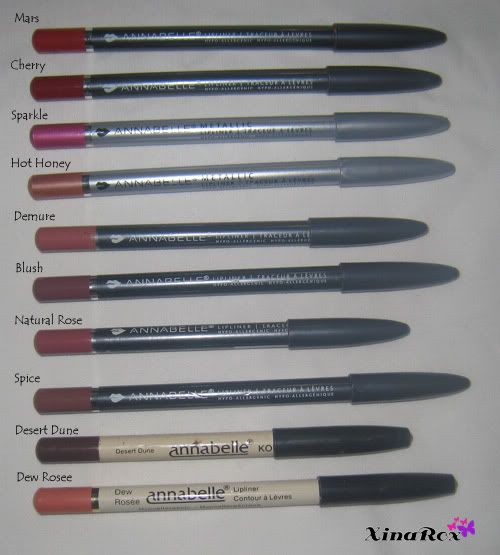 The Swatches: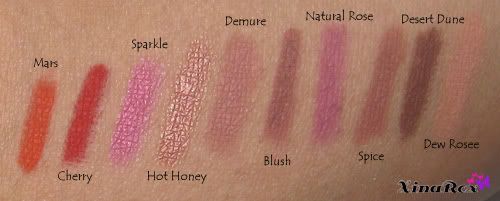 Mars, Cherry, Sparkle, Hot Honey, Demure, Blush, Natural Rose, Spice, Desert Dune, Dew Rosee
I love all the colours that I have. Although I don't have any of their hot pinks (I prefer NYX hot pink lipliners) and I dont know if they make any either.
I like pairing Mars lipliner when I use Mac Lady Danger lipstick.
Also, I love using Cherry lipliner with any of my red lipsticks.
My most used lipliner is
Demure
and I use it almost with all lipsticks. It's a great neutral colour.
I also love colouring in my entire lips with a lipliner and applying a sheer gloss on top. Make sure your lips are moisturized so it doesn't feel overdrying.
NYX has good lipliners as well but it's too bad, they are not available everywhere in Canada except in selected Rexall Pharmacy shops.